Download the dabble app
with referral code BETSAU
Tested
Last used 1 hr 22 mins ago
Download the dabble app, enter referral code BETSAU during registration & set up your profile to enjoy Dabble, the betting app with a difference! Bet as normal with Dabble & be part of Australia's betting community where you can follow other punters and well-known sports stars, copy their bets, have banter with your mates and watch Sky Racing channels. 18+. T&Cs apply.What are you prepared to lose today? Set a deposit limit.
1
Reveal bonus code
Click on the box to see our bonus code
2
Open the site
Register and use the promotion code
3
Sign up
Benefit from exclusive bonus when you sign up
Visit dabble
Dabble Code BETSAU 2023
Dabble has hit the nail on the head and changed the game of mobile betting forever adding a social aspect to their sports and racing books, which adds the perfect touch to the modern world of betting from your telephone.
Dabble is not only a quality betting app, it is also a social app where you can enjoy all of the pub banter with your mates, while sitting in your favourite spot in the comfort of your own home.
You can use the exclusive promo code BETSAU when signing up for an account to access the latest features and promotions.
With Dabble you can make your account public and chat and share your bets with your mates, you can also follow big-time punters and even celebrity sports stars. If you see a bet you like that another Dabbler has laid, you can simply copy their bet with one click and cheer on with them on the social stream.
The Dabble interface is fun to use and encourages banter between punters with quick links to all of the comments and the chance to like a bet and/or leave your own opinion. Our
Dabble review
shows you how everything works.
Dabble Referral Code
The Dabble code to use when signing up is
BETSAU
. It is inserted into the promo code box in the registration form.
Once signed up, you will be able to access all of the latest Dabble promotions for members only and use the impressive betting app.
Dabble Pros and Cons
What's to like about Dabble:
Chat with your mates and Sports Stars

Follow successful punters and copy their bets
Copy bets from successful punters
What's not to like about Dabble:
No desktop version

Sports markets are lower the competitors
Dabble Horse Racing
Dabble is becoming one of the favourite apps for pony lovers, after first being released for the racing community. You find all of the domestic thoroughbreds, harness and greyhounds as well as plenty of international racing from Great Britain, Ireland, Hong Kong, USA, China, Japan and France.
Dabble also allows its users to live stream from Sky 1 and Sky 2, so you can not only chat and swap bets with your mates and professional tipsters, you can watch the races together even if you are in different parts of Australia at the time.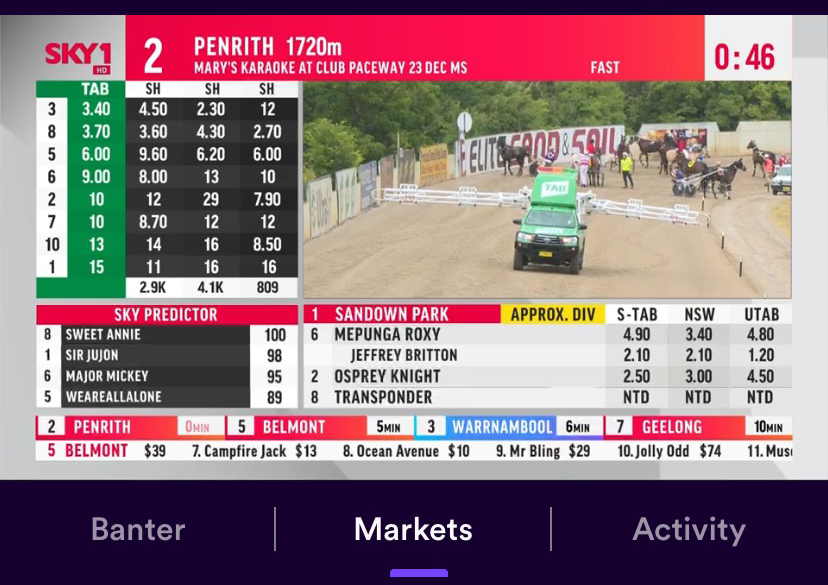 Dabble Sports Betting
There is nothing like a bit of footy banter between friends or even a dig or a hoorah with another like-minded punter and with Dabble you can do it without being within arms-length.
Although there is a little to go with the sports coverage on Dabble, they supply everything you need if you want to bet on NRL, AFL, NFL, NHL, EPL, Motorsport or even if you want to throw some cash at the Darts, Dabble has you covered.
At Dabble they love a Same Game Multi, so there are great prices on player specials to boost your return and of course the best thing is you can boast about the 8-legger you hit to all your mates and fans.
Dabble Mobile App
Dabble doesn't provide a desktop version so they can put all of the blood, sweat and tears into the development of their mobile app. It is smooth and functional and has bold comical text that is easy to read, which shows they have really put in the extra time into the design.
You can close down your Facebook and Instagram because all the important people in your life will soon be on Dabble.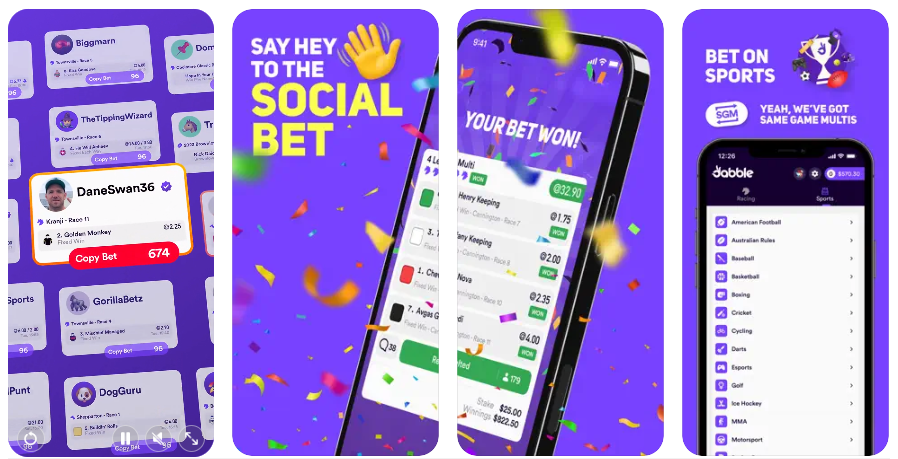 Dabble History
Dabble stands out as the most distinctive bookmaker in Australia, because they've built their whole product around the social side of punting.
This mobile-only bookmaker hit the scene in 2022, and it was founded by none other than Tom Rundle, a former executive at Crownbet and Pointsbet along with former Collingwood star Heath Shaw and David and John Robin.
Dabble is licensed in Darwin and proudly 100% Australian owned and operated. They've got offices scattered across the country in Darwin, Brisbane, Melbourne, Adelaide, and Albury. They're all about keeping things local and giving Aussies like you the best betting experience possible.
Dabble Frequently Asked Questions
What is the Dabble Promo Code?
You can use BETSAU when signing up. Insert it during the registration process.
Does Dabble Offer Betting Tips?
Dabble is a betting tip bookie, that is their thing. The trouble is deciding who you are going to trust and who the jokers are.

Dabble has their own team of professional bettors who share their tips and give the reasoning behind their Same Game Multis.

However, Dabble gives every single one of their punters the chance to put on their English Tweed Fedora and be a tipster themselves, by placing a bet and sharing it with a well thought out and analytical description behind their big winner.

What are Dabble's Best Products and Features?
The key to Dabble is to connect with your mates and other Aussies that love to have a punt. The bet-sharing concept is accompanied by a platform to throw a little banter back and forth between friends and give out your inside-info to others.

Dabble also provides plenty of promotional products to its registered members that can be taken advantage of once you sign up.

Live streaming is also available to Dabble racing fans, offering quick links to Sky 1 and Sky 2!

How Do I Make a Deposit To My Dabble account?
You can use the following methods to credit your Dabble Account and start betting on your favourite markets:

Credit Card
Debit Card
VISA
Mastercard
Skrill
EFT Transfer
How Do I Make a Withdrawal From My Dabble account?
You can make a withdrawal from you Dabble account using the following methods:

Bank Transfer
Credit Card
How Do I Get In Touch With Dabble Customer Service?
You can get in contact with Dabble customer service by one of the following methods:

Phone: 1800 DABBLE
Email: [email protected]
Live Chat: Available via the Dabble App
dabble

Download the dabble app

Download the dabble app, enter referral code BETSAU during registration & set up your profile to enjoy Dabble, the betting app with a difference! Bet as normal with Dabble & be part of Australia's betting community where you can follow other punters and well-known sports stars, copy their bets, have banter with your mates and watch Sky Racing channels. 18+. T&Cs apply.What are you prepared to lose today? Set a deposit limit.

Tested

Last used 1 hr 22 mins ago
Last updated on 10 Dec 2023