Best Betting Sites & Top Bookmakers December 2023
Looking for the top betting sites for online betting? We have a complete guide to the best bookmakers to be punting with our rankings.
The AussieBets team study the betting sites available, pick out the best of the best and provid our monthly power rankings. The table below shows December 2023's top ranked and below you can find all you need to know about each of them.

Ranking The Best Betting Sites
There are
lots of betting sites
springing up almost every day with each one boasting plenty of unique features that could be appealing to a wide range of customers.
How do we rate one from another? The table shows this month's best ranked but how do we reach this conclusion.
Some of the factors the comes under consideration in our
bookmaker reviews
include user-friendliness, odds, markets, betting features like live streaming, payment options and much more.
Things To Consider When Choosing A Betting Site
Availability
This should be your first consideration when choosing a betting site. Some operators are restricted to certain regions, so only residents of these places have access to the betting services. Before you choose a betting site, ensure that it is available to players in your location.

Deposit and Withdrawal Methods
Of course, the betting game is driven by funds, so a solid betting site must make it easy to
deposit and withdraw money into your account
. There are a few betting sites that make transactions difficult for a myriad of reasons, so it pays to avoid them. A good betting site should have multiple options like bank cards, bank transfer and E-Wallets.
User Friendliness
Betting is usually a simple and straightforward process and should be done with minimal fuss. A cluttered site makes it tricky navigating through the numerous sections, so a good betting site should have a user-friendly interface. A slick
mobile betting app
is an even bigger attraction.
Promotional Offers
Everyone likes promotions and they can be a major consideration when choosing a betting site. In Australia, you have to be logged into your account to see the latest promos, which isn't ideal, but you can use our betting guides to learn about the types each site offers.
Beyond the basic process of wagering money and claiming winnings, there are other features that make your betting experience a memorable one. Some of the features that help enhance your betting adventure include live betting, cash out, multi bet builder, live streaming and promos.
Betting Sites With The Best Sports Betting
This is the point of choosing a betting site defeats the purpose if it does not boast a solid sportsbook that caters for your needs.
A good sports betting site should have a vast and extensive sportsbook, going beyond popular offerings like AFL, NRL, soccer, basketball and tennis and offering things like golf, darts, snooker and Esports.
Our Top 5 Sports Betting Sites:
BoomBet
Ladbrokes
TopSport
bet365
Unibet
Betting Sites With The Best Horse Racing Betting
If you punt on the thoroughbreds, harness or greyhound racing, you want a betting site that offers the biggest odds and variety of markets.
From tote and SP betting to live streaming of races as you punt, the choice of betting sites that excel for horse racing is impressive. It was tough, but we've picked out the all-round top five that tick most boxes.
Our Top 5 Horse Racing Betting Sites:
EliteBet
BoomBet
Dabble
bet365
PuntNow
Latest News & Previews from AussieBets.com
How To Use A Betting Site
Barring a few minor exceptions, using a betting site is quite similar across the board. You must create an account, make a deposit and then place your bet.

Signing Up on A Betting Site
You have ticked off some of the criteria highlighted on our list and chosen your preferred betting site. The next step is to register and create an account before beginning your betting adventure.
Follow the step-by-step guide on how to sign up to your preferred betting site:
Visit the website of your preferred brand
Locate either the "Join", "Sign Up" or "Register" button on the page
Input the required information in the relevant boxes
Confirm your registration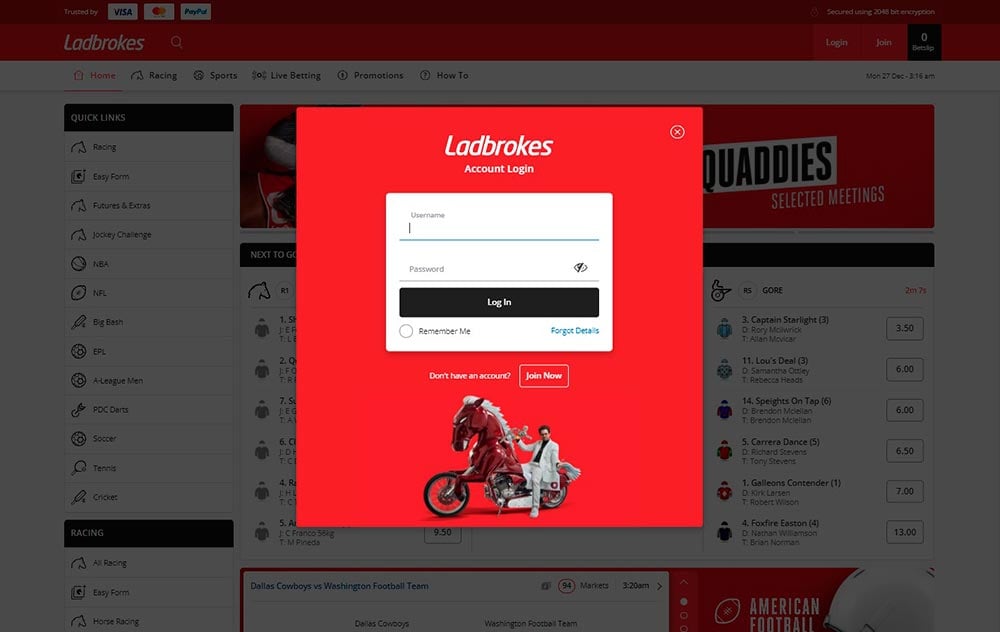 Making Deposits on A Betting Site
You are probably itching to start betting so you can make some money. However, before you can start to bet, you must make a deposit into your account.
The betting sites highlighted here all have diverse options for making deposits. Learn how to deposit money on your betting sites by following the steps listed below:
Log into your chosen betting account
Locate the deposit button on the page
Select your preferred method of deposit
Enter the amount you wish to deposit
Fill in the required information in the relevant info
Confirm your payment and your account will be credited
You should note that some of the steps may vary different sites.
Placing A Bet on A Betting Site
You are now a fully registered member on your preferred betting site and the first deposit has been made. You can now begin your betting adventure and potentially make some money along the way.
The great thing is that it follows the same process as the site. Simply follow the steps below to learn how to place a bet on a betting site:
Log into your account
Select your preferred from the list provided on the page
Select the event you wish to wager on
Select the outcome you wish to wager on
Enter your stake
Conform your bet
Your winnings will be immediately credited to your account if the bet is successful
Of course, a number of betting sites offer mobile apps as an easier and convenient way to handle your betting needs. If you like to bet on the go should consider downloading a betting app.
Choosing A Betting Site Today
Given the large number of options around, the title of best betting site is one which difficult to pick. With each betting site boasting their own unique features to suit specific needs, it might be a hard decision just settling for one.

For example, bet365's features like the live streaming might be appealing to a lot of players. BoomBet's generous racing odds also stand out, as does the overall punting toolboxes of Ladbrokes and Neds.
The bottom-line is that you must first figure out what you want from a betting site before deciding on the one that suits your specific needs. Our table on this page shows you who we rank best across all sectors of rankings.
Betting Sites FAQs
What is the best betting site?
There are lots of really good betting sites around, so it all depends on what you are looking for. bet365 are known for their sportsbook while Dabble has earned some praise for their modern innovations as a betting app focused brand.
Are betting sites legal?
Betting sites are legal as their operations are usually licenced by regulatory bodies. There are regulatory bodies around the world whose responsibility is to monitor the operations of betting platforms, so just ensure that you are not punting on an illegal betting site.
Which betting site has the highest odds?
Odds are generally similar across the numerous betting sites, although certain operators can choose to offer slightly higher odds. Brands like BoomBet and EliteBet stand out when it comes to racing, others are betting suited if you bet on sports.
How do I sign up on a betting site?
It is a simple and straightforward process signing up on a betting site. All that is required is to visit the site, click the "join", "sign up" or "register" button and just follow the step-by-step prompts.
How do I make deposits on a betting site?
Most sites provide multiple payment channels which makes depositing money on your betting site quite straightforward. Just ensure your preferred payment method is available on the site, click the deposit button and follow the prompts.